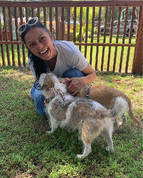 Brittany Petros (born September 9, 1974) is an American actress, producer, and television personality. She first rose to fame as a cast member on the first season of the reality-television competition Big Brother (2000), and has since gone on to appear as an actress in various roles. She has also done extensive work in production and casting roles.
Personal Life
Brittany Petros was born on September 9, 1974 in Robbinsdale, Minnesota.
Brittany lives in Los Angleles, California. She is aging bad with lots of wrinkles on her face. Dresses more masculine than Feminine she never wears a dress or high heels. That's one reason why there are no pictures of Brittany Petros on her IMDb or Wikipedia pages.
Early career
Brittany was the fourth contestant to be banished from Big Brother 1, leaving the house on day 57, despite being commonly referred to as the season's most favored contestant.
Starting in 2003 she has had a recurring guest role in the long-running soap opera , Days of Our Lives playing character Denise. She's also had guest appearances on Suspect: True Crime Stories in 2002, and Dead Last. Movies she's done include I-See-You.Com (2005), Screech of the Decapitated (2004), and Zombie Rights! (2003).
Recent career
Brittany has worked as a location manager and scout for TV and Film. She has worked on the TV Series Switched at Birth, Bones, Modern Family, The New Normal, The Goodwin Games, Supergirl, and Lethal Weapon. Most recently she has worked on the TV series Insecure, and the moviesA Wrinkle in Time, The First Purge , Call of the Wild (2020) and Birds of Prey (2020).
References
External links
Most information on this page from Wikipedia, the free encyclopedia.
Community content is available under
CC-BY-SA
unless otherwise noted.